Guest Blog by Julia DiNardo of Fashion Pulse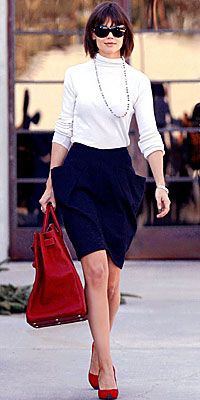 Ever since we saw the pic of chic, pulled-together Katie Holmes toting around the super-sized Hermes Haut a Courrois (HAC) handbag we were immediately hooked; where can we find something similar that costs 1/20th of the price (the bag is approximately $10,000)? As the structured frame bag and satchels are gaining popularity as important bag trends, we thought it would be helpful to pull together our favorites, ranging in size from standard to large enough to carry three-five toy dogs.
Although nothing quite says oversized and luxury like the Hermes HAC, we found a few bags that are still good replacements at prices that won't require Tom Cruise to make another cheesy action movie in order to afford it. If oversized is the only way to go for you, we'd recommend starting with the Turnlock Doctor Bag, $68, from Urban Outfitters.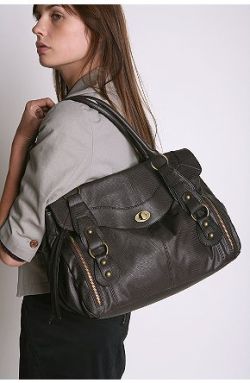 We love the color selections (teal, brown, or black), and for the price, it's a good test-run to decide if a structured bag is too weighty for you, and when looking for your possessions becomes too much of a "needle in a haystack" challenge. For a softer shape and most likely a little lighter in weight, the Bo Bo Bags Turbo Diesel Gemma Satchel ($143, ebags.com) would almost double as a weekender duffle, yet is chic enough to tote ALL of your daily musts AND non-essentials in!
Add a splash of contrast color with the Olivia Harris Tote in Black $495, at Clutch Seattle; in our opinion it is just as eye grabbing as Katie's version! If you're looking for more of a standard-sized model, ala Katie's bud Victoria Beckham, we found the Laura Satchel, ($58 ShopSueyBoutique.com) that looks quite luxe in grey and right at home on Fifth Avenue. Continue to veer in an upscale direction with the Fossil "Paloma" Large Frame Leather Bag ($248, Macy's) or get our absolute favorite, the Brooks Brothers Vegetable Leather Small Quarter Flap Bag for $498.
Segue the bag from classic to bold with this Antonio Melani "Abby" Satchel ($249, Dillards) that works embossed croc and an ombre gradient to perfection. So there you have it – Hermes or not, you can still get the structured bag at a price that will allow you to also cop a version of Katie's Louis Vuitton adorable skirt!
— Julia DiNardo is the founder/editor of Fashion Pulse — visit the site for daily updates on trends, runway collections, industry buzz, beauty and more.