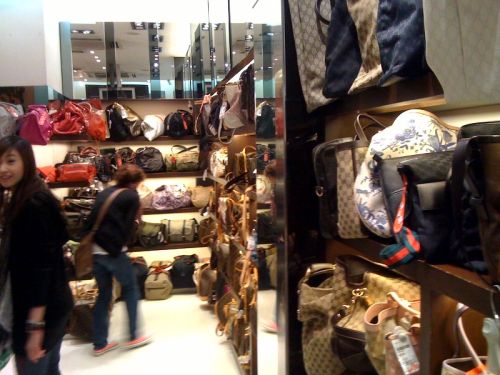 Hong Kong has THE best shopping in Asia. I know some will disagree, but for me the combination of a convenient modern city, awesome food, and luxury shopping on every corner tops it for me as the ultimate. I went with my husband who is in Hong Kong for the first time, and he was in awe that the number of Chanel, Louis Vuitton, Dior, Fendi, Prada, and Gucci boutiques sprinkled throughout Kowloon and Hong Kong rival that of Starbucks in the States (okay, slight exaggeration, but not by much).
I literally became tired of looking at all these high end boutiques and started venturing in the alleys for more interesting stores, like this one in Causeway Bag called the Paris Station. I thought they sold fakes and was shocked at the blatant display of Gucci and Balenciaga in the windows, so of course I had to go in. And what did I find in there? An entire case of Hermès Birkins and Kellys! They didn't allow cameras or I would have taken pictures of this case, but my husband snuck this one from the doorway with his iPhone. They looked pretty good, so I asked to take a look at a 30cm dove gray in chevre leather. I was at first confused by the lock and key and then was pretty damn impressed by the quality, but then when I asked the price and the guy told me it was $86,000 HK Dollars, I was floored. Maybe I heard wrong. Perhaps it's $8,600, which is still pretty expensive (around $1,200 USD), but he repeated $86,000 HK, which is $12,000 USD!!!
I then pissed him off by asking, "Is this real?" – which is a legitimate question considering that this was not a normal looking store. He emphatically announced that this is of course authentic and then snatched it away from me. Then with the bag in his hand he looked me in the eye and asked if the price is acceptable to me. I looked him right back and said, "No, it is not even close." Everything about it looked good, the seams were clean, the edges were immaculate, the hardware flawless, but there was something about the shape that looked slightly off to me. The Birkin is a pretty square bag, but this one had a slight bulge around the middle. Also, the color was not exactly right, I have seen Tina's dove gray, and this one seemed more clayish. They had a turquoise like mine that was not at all like mine.
Regardless, I would not buy a Birkin at a store like this and certainly not pay $12,000 for one without unfaltering confidence that it is real. I wouldn't even spend $1,000 on a fake that looks flawless (trust me, we have seen fakes that are hard to detect). The rest of this store sold secondhand bags, which I am sure are real and even if they're not the prices are good enough to forgive the difference. Which is another reason why no one should buy a supposed authentic Birkin for $12,000 here.