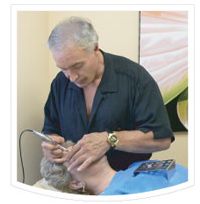 Throw out every single brow pencil, brow powder, brow gel and any other products you depend on for a full set of brows. All you need is Brow Master Cees Pennings. I first featured him two years ago when he did my brows. Yup, I'm coming out of the brow closet– permanent make up has such a negative stigma to it (created mostly by un-trained technicians who has left a trail of blue brows behind them) that I've been reluctant to talk about it. But so many of my friends have commented on my brows that I decided to share my little secret and they are now addicted to Cees! Heidi looked like she had a brow lift after he did hers as did another friend who looked instantly younger as he filled in her overplucked brows. He is an artist and will look at your face shape and age and treat you accordingly.
As I told you before, Cees was the man whom cosmetic companies such as Shiseido and Dior depended on– as one of the top photo re-touchers in the world– to arch the brows, sharpen the noses, chisel the cheekbones, and curve the lips of models to make them picture perfect. That is, until digital re-touching took over his industry. (Jump for more)

Photo of my brows IMMEDIATELY after Cees. He painstakingly uses tiny hair like strokes to fill in the areas of your brows that are missing and extends the brows if necessary with the same tiny hair strokes. Call Cees for appointment! 305-467-0065.
Below: My brows 4 months after Cees' permanent make up. Can you tell my real hairs from his hairstrokes?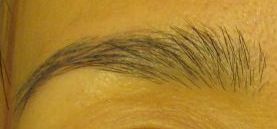 Well their loss is our gain because now he is making us gorgeous with his new career as the world's leading Permanent Make Up Artist. I do not take my face lightly and thought about this for months before taking the plunge. Let me tell you, not a single person could tell the difference, they just thought I got my brows shaped and groomed professionally!
Cees uses only the best make up pigments from Germany and his colors never fade, turn blue or make you look like a ghoul. Email Cees for his availability (he is based in Miami but travels to Dallas every month and works out of Renee Rouleau spas)