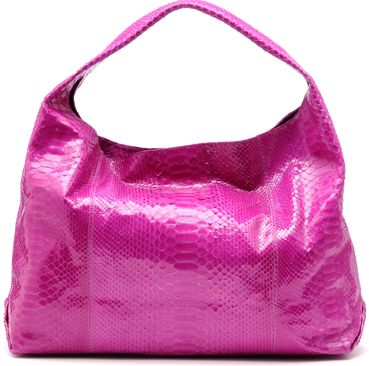 UPDATE: Congratulations to Kathy D. of Shelby, N.C. for winning the Annie clutch and Frank P. of Dallas, TX for winning the Meissa Hobo.
Is it bag buying time yet? You do not need an excuse to treat yourself to this fabulous magenta python hobo, the Meissa, from Adriana Castro (we're giving away the violet ostrich version in our promo this month!). She is making it easy for Bag Snob readers by offering a 30% discount which makes it only $1,253 (full retail is $1,790)! I am crazy about this color– so spring like and vibrant! The hobo style is timeless and this is a super easy bag to tote around– especially with that flat shoulder strap. There is a hidden magnetic closure (no bothersome hardware), cellphone pocket with zipped inner compartment and of course Adriana's skins are luxuriously soft. This is a super huge bag at 17″ but it's so lightweight and slouchy that it appears much smaller when carried.
And hello– with our discount it's less than many of the leather hobos out right now! You are crazy if you pass this up!!! There is also lime and a vibrant orange she calls 'sun'. But for me, it's all about the pink! At Adriana Castro online, use code ACBAGSNOB for your discount!
CLICK HERE FOR DETAILS AND TO ENTER OUR EXOTIC EXTRAVAGANZA GIVEAWAY!!! Good luck!