I am trying to be cool about attending the Marc Jacobs show tonight at the Armory but OMG– I was at Marc Jacobs! Jacobs showed an ambitious 60 looks on 60 models in a somber and sparse set up with 7 single rows that created 4 walkways; which meant everyone was front row! Each model had a different hair style and distinct make up– you'd think that this meant chaos and disorder but things backstage were quite calm– a serene Marc Jacobs even strolled around to check make up and hair. I was surprised to see him so relaxed; I stalked him for a bit to get my photos and he indulged by smiling and saying hello. I think I've been sprinkled with the Marc Jacobs fairy dust (as my friend Rachel, Editor in chief of InStyle Czech Republic said afterwards)! Not only did I love the neon bright coats and dresses, I was obsessed over the sparkling tights and leggings! The '80s are back in full force with Grace Jones shoulder pads and Pat Benator eyeshadow. Okay, so it was way overstyled but it made for a fabulous show! Being so close to the models allowed us a clear view of the clothes and it was clear that the separates will hold up long after the stiffly sprayed hair falls. I grew up in the 80's and seeing this collection excited me to no end. I will not be sharing photos of my high school hair and make up years but let's just say, not too far off from the runway models. As for the bags, MJ kept it simple and basic with more renditions of "Marc does Chanel" than we've ever seen. I can barely keep my eyes open so will have to finish writing tomorrow. Stay tuned for exclusive backstage photos at Marc Jacobs! (Jump to see exclusive backstage photos taken my moi!)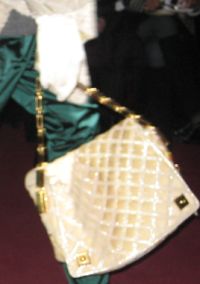 Please excuse my photos, I loaded these as quickly as I could — will have better photos tomorrow!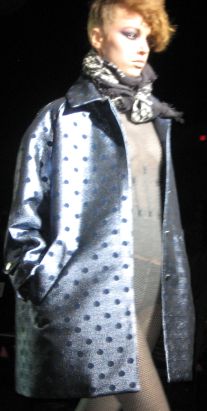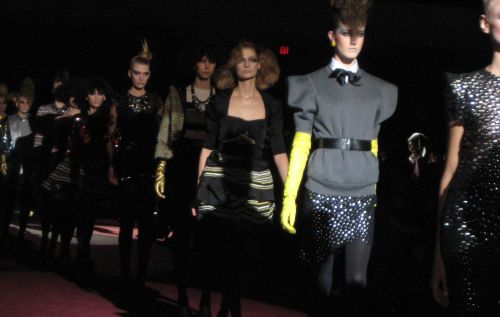 The terrifyingly chic Editrix of Paris Vogue apparently scares Marc, too– he repeatedly asked her if she liked it, if she really really liked it.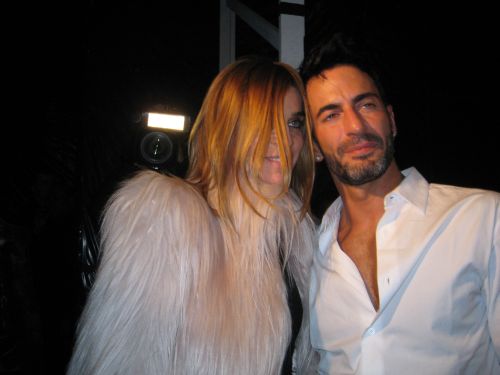 MJ and Simon Doonan of Barneys New York shared a hearty laugh. I always imagined Marc to be dark and moody but he was playful and upbeat! He even lifted up his skirt and said "this is a real skirt, the real thing". And we think you look fabulous in it, Marc.
Marc really lit up when he saw his BFF Rachel Zoe. He whispered something to her and she immediately responded by reassuring him with words of comfort. It was very sweet and made me want to join in and have a group hug. As she walked away, he playfully punched her in the shoulder and said "Nice jacket, who made that?" and giggled.