UPDATE: This is from Alexander Wang's Fall '09 collection! MK was gifted the bag from Alex– lucky girl! I'm harassing him as we speak to get more details and have been told that it will be on the shelves of Barneys by Mid July.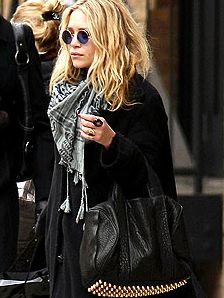 I adore the Olsen twins. No matter what people say about them, they just keep plugging along and running their empire. These Mini Moguls have accomplished much in their young lives including success in the fashion industry with their line of simple basics, The Row (yes I am a secret fan). What's next for the twins? I predict their own bag line.
Just for fun, can anyone guess what bag Mary Kate is toting? Love the studs, love the shape, and it's a fun slouchy bag with just a bit of attitude. I dread finding out the price as I'm waiting for its PR reps to reply. If it's within reason I might pick it up as my Trend bag of the season.