Win a set of WE Help Bring Hope Collection by telling us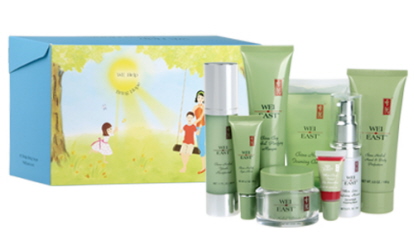 I would recommend that everyone watch a video posted on the Wei East website in which the founder of the ancient Chinese herbal medicine-inspired beauty line, Wei Yang Brian, discusses what inspired her to create Wei East WE Help Bring Hope Collection. The collection of eight of Wei East skin care's best sellers retails for $70 ($300 value), and 100% of sales go to autism (Autism Speaks and The Autism Treatment Center of America). The box totally puts a smile on my face. It was designed by Wei herself and displays a drawn picture of Wei pushing her son, who is autistic, on his favorite swing and her daughter chasing a butterfly in the yard with a bright sun in a perfect blue sky shining down on them. Wei says that it's the feeling of hope that brings sunshine into her life and that's something that truly shines through in this collection and in the video. More about the collection after the jump!
The products in the collection are —
China Herbal Foaming Cleanser 6oz (love this one — I've been using it on days where I don't use my Clarisonic— since Clarisonic doesn't work well with foam cleansers).
China Herbal Youth Recaptured Serum 1 fl oz
China Herbal Eyes Alive 0.7oz
China Herbal Ultimate Renewal 1.5oz
White Lotus Defining Moment Finishing and Correcting Serum 0.5 fl oz
White Olive Tinted Lip Smoother 0.28oz (I don't usually like flavored anything when it comes to beauty products, but I actually couldn't taste the Pomegranate flavoring and this left my lips smooth and hydrated wwhich is great since the L'Occitane lip balm I just bought, which I usually swear by, must be old because it's not doing the trick at all — just hard almost like it was frozen before I bought it!)
China Herbal Hand & Body Perfection 3.5oz (this is another fave– moisturizing without being too greasy, though I'm still on the lookout for the perfect cream for my face — I'm experiencing the worst dryness this year!)
China Clay Purifying Masque 3.5oz
You can get the Wei East WE Help Bring Hope Collection by clicking here!