If I could only say one thing about Alexander McQueen, it would be that THIS is HIS season!! Trust me 😉 …If you could wear one designer head to toe, pick McQueen. While we were stuck in BoHo land for a few months, we have now moved into a darker, more confident S&M inspired trend zone. I am all about this switch! It's subtle enough that your black gladiator shoes will still pass muster, yet bold enough to incorporate those signature pieces you know you have been itching to wear! While we have been drooling over Mr. McQueens handbags over on Bag Snob, its time to show some shoe! These three shoes are so RAD (yes, I said "rad") I can't stop looking at them!! Truly, these shoes capture perfectly the new direction fashion has taken in the past few months…and perhaps even inspired it?
…I selected these three shoes from McQueens new collection because there is something for everyone! I think that these three pairs of shoes alone could carry me through the next few months, serving every need! …
Metallic leather shoe boots $1,115– For your inner rockstar!! I could see myself sporting these shoes to every club in Hollywood, straight to the front of the VIP 😉 (Jump for more!)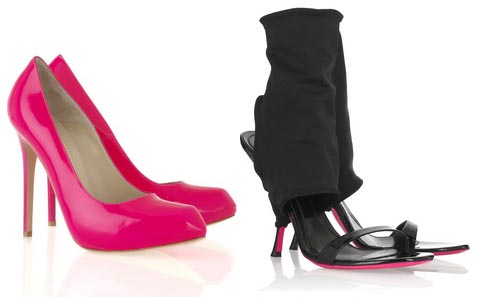 Patent platform pumps $860– These pink pumps are perfect to spice up your favorite cocktail dress. Whether you pair them with with a simple skirt and top, or to compliment a printed dress, you will stand out! Seeing these pumps in person is the only way to get the complete sense of how truly sexy and slim the heel is (translation—these shoes will make your legs look a mile long!)!
Patent leather sandals $755– HELLO FASHIONISTA!! How can you not picture yourself wearing these around the Melrose swap meet with your favorite gray skinny jeans, T-shirt and slouchy vest? Knowing myself, I would also pair these with another cherished accessory- my Bikini 😉
***You can purchase shoes from Alexander McQueen's new collection at Net a Porter
♥***