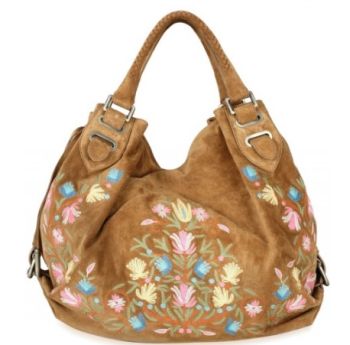 I have been eyeing Bally bags for a year now and am quite impressed with Brian Atwood's efforts thus far. I am even swayed by this floral hobo… a bit. It's not really my style but I see the appeal in the beautifully embroidered flowers and the gorgeous colors for a boho chic girl. This could have been really tacky but Bally really pulled off the look without offending the senses. Even the price is fairly reasonable at $1,173 considering the handiwork!
It's a large suede hobo which is usually best in Fall but the spring flowers will allow you to rock this all year long.
I saw Bally everywhere in London and Paris on the arms of the nonchalantly chic. I'd love to carry this with a whispery white summer dress. See BALLY – FLORAL EMBROIDERED HOBO SHOULDER BAG here.
What do you think? Snob or Slob?