UPDATE: CONGRATS to Vivienne Hoang for winning this incredible bag!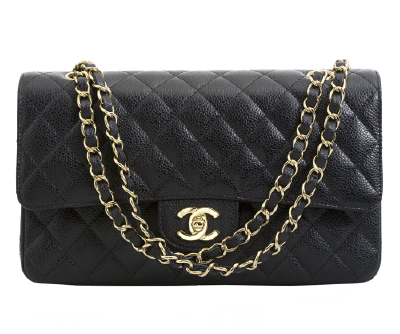 Your eyes are not deceiving you, we are in fact giving away THE ultimate classic of snob worthy bags, the Chanel 2.55 in black caviar leather worth $2300. We cannot even begin to express how excited we are about this incredible giveaway. This is the bag you always start with when starting a collection, it is an essential in every fashionista's wardrobe. Wear it day, night, casual or formal and in the caviar leather, it will stay in perfect condition forever. The sponsor of this giveaway is ideeli, to enter to win, click this link if you are already an ideeli member. If you are not an ideeli member, click on this link. ideeli is a members only destination for designer items at incredible discounts. If you sign up through Bag Snob, you get instant membership to receive their deals.
Entry Form for ideeli members.
Entry Form for non ideeli member.
Only one entry per person and you must be at least 18 years old. No purchase necessary to enter. Click here for the complete rules. Contest ends on April 3 at 11:59pm EST. If you are having trouble entering, please email Deirdre for help.
A great huge Thank You to ideeli for sponsoring this giveaway!