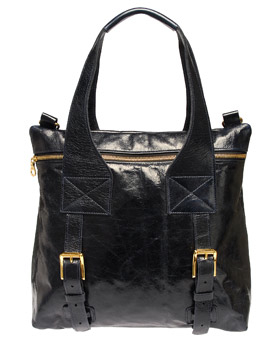 Dear Bag Snob,
I have a question I thought only you guys could answer. I love love love my designer bags – Miu Miu and Marc Jacobs are particular favourites. However, the bags I have are not practical for work, as they're too small. I am a student but will be graduating and starting work soon. I need something classic and sturdy (black or brown would be best), that can comfortably fit A4 sized files, with room for cosmetics case, umbrella etc, and preferably quite cheap (only a couple hundred pounds maybe $300-400 dollars?!). I am currently using a Longchamp Le Pliage, as they are super practical, I can literally throw them around! But I'd prefer something smarter looking, in leather, while still being stylish, of course. I hope you can help!
Many thanks,
Pri

Dear Pri,
You are going to be very happy because I have found the perfect bag for you. Stylish – check, functional – check, great price – check and check. Jas MB is always a good go-to option for casual and funky Frugal Snob bags – this shoulder bag with cool belted ties and optional shoulder strap will make work and school convenient and chic. The size is just slightly larger than your A4 folder (which are larger than the standard manila folders) and will fit a 13″ laptop. Being the youngest gal at work, you are responsible for leading the way in the latest style finds. Set the precedence and show them who the new fashionista is with this undeniable chic bag. And no need to worry about offending the old guards, with a price tag of only $395, you will demonstrate both your fashion and financial sensibility which should bode well for your career as you are obviously now the most valuable asset to the company. Leave the files, laptop and strap in the car and you are ready for cocktails or hot date without missing a beat. Get it at Browns Fashion for $395.
Love,
Bag Snob
P.S. Thanks to one of our readers, it has come to our attention that some international online retailers do not include import duties, customs and local sales taxes for the country your purchases are being shipped to. The prices shown DO NOT include these extra charges, which you pay to the shipping carrier, in the case of Browns Fashion, it is to DHL.
Before you make a purchase, please be aware of the following:
If you live outside of the EC, you will get the VAT back at time of purchase but you are responsible for import duties, customs and local sales taxes of your country.
If your shipping address is outside the EC, as the recipient, you are liable for all import duties, customs and local sales taxes levied by the country you are shipping to. DHL, our partner carrier will assist you or you can contact your local customs office for more information. If you return the items you ordered, you will be able to claim back any import duties or customs. We are happy to assist you if you have further questions.