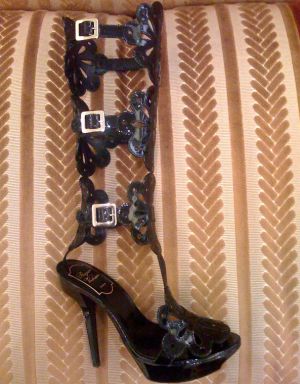 I love boots, I love sandals, but most of all, I love platform shoes. Who knew there'd be a day when one wouldn't have to choose between the three!?!?
Roger Vivier high heel platform sandal boots are sexy fetish without being trashy. These are the most seductive shoes I've ever laid eyes on! Bruno Frisoni's use of the iconic pilgrim buckle is subtle and chic– worthy of a modern day Belle de Jour.
Of course one would need very long and very slim legs to get away with these; you don't want any bulges of fat through the beautifully cut out flowers. They are the ultimate fantasy shoes and are quite expensive but you can see the exquisite handiwork in the details.
Available in black patent for $1725 at Bergdorf Goodman. Call or email Eddie Curtis in the shoe salon for more info! 212-872-8940