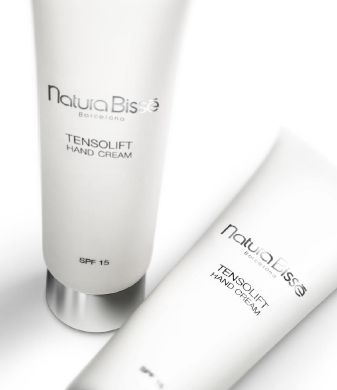 There are many things in life that we simply can not scrimp on– one of which is a good hand cream. The hands will always give away your age so you better take care of them, my Snobs! I have half a dozen hand creams scattered around– in my car, on my night stand, on my bathroom counter, under the kitchen sink, in my son's playroom– you never know when your hands need a moisture boost!
My latest obsession is the Tensolift Hand Cream from Natura Bisse that I managed to get a sample of last month; it's pure decadence for your paws! My hands were very dry from the cold weather in NYC but a couple of days of Tensolift upon my return home and they were good as new! TENSOLIFT HAND CREAM is designed exclusively to FILL, LIFT AND LIGHTEN aging hands and it delivers as promised.
This technologically advanced treatment is formulated with ingredients such as Hyaluronic acid and skin-identical cushioning lipids that fill the skin from within, providing extraordinary volume and smoothness. The anti-oxidant botanical extract obtained from the "Bellis Perennis" flower lightens dark spots, another sign of aging, and prevents the appearance of new ones while evening skin tone and restoring a youthful luminosity. TENSOLIFT HAND CREAM acts as a protective glove throughout the day; it has an extraordinarily silky texture, is water resistant and contains an SPF15.  I started kickboxing recently and my hands are taking the worst beating– I now use this as a protective glove before I don my boxing gloves!
And don't worry about greasy hand prints on your clothes; its non-oily and lightweight formula disappears into your skin quickly. Price is $108 but trust me, it's much cheaper than the injectables that women are using to fill their wrinkled and neglected hands ($900 each session). Tensolift will be available at Neiman Marcus
on March 22nd.