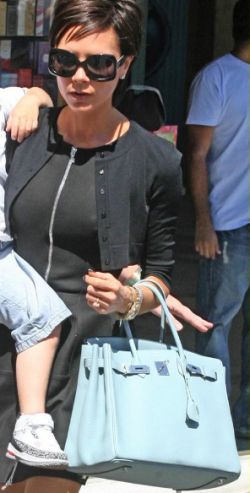 The theme for Hermes this year is "Travel"; in addition to gorgeously hued scarves, there are many new birkin colors.
One of the best colors of the year is called "Ciel", a soft shade of sky blue (it means sky in French) with a hint of gray. I love this color, it is so elegant and unassuming! I saw it at the Madison boutique in a Lindy and was very very tempted. I refrained as I am holding out for a Violine lizard and Fuchsia ostrich (plus I already have 2 blue birkins– Blue Jean and Blue Brighton with one on the way in Lagon- and one really does not need 4 different blue Hermes bags, or does one?).
No big surprise that Posh has one already (she is the most dedicated of Hermes clients!). I am just wondering if Posh will ever stop buying birkins? Not that she should, just curious if she would.
What do you guys think?
Photo credit: Just Jared