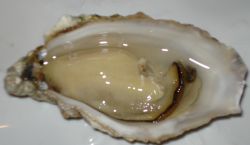 An apple a day won't really keep the doctor away but could certain foods actually make your hair look and feel younger? Graying hair as well as hair loss can age even the youngest looking faces. According to Suki Duggan, owner of DonSuki Townhouse Salon in Manhattan, just eating foods with different nutrients can help to fight aging of the hair. Really? I eat a lot of crab, almonds and oysters but am starting to see gray hair.
"Often the reason people's hair starts to gray hair does not have to do with genes but because of copper deficiency. Eating foods that are high in copper, like sunflower seeds, could be beneficial." Don't like sunflower seeds? Crabs, oysters, cashews and almonds are also high in copper. And here we thought oysters were only good for the libido.
" Biotin, which is generally found in soy products, as well as liver and eggs, can promote hair re-growth," said Duggan. Tofu is great.
I don't know how valid these claims are, my uncle eats lots of tofu, crab, and almonds but he's as bald as they come. What do you think?