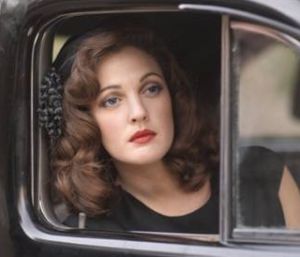 Did you watch Grey Gardens Saturday night? Don't worry if you missed it, the next showing is on April 26th at 2pm (jump for complete listing). I won't give away any of the movie (though most of you know the plot already) but want to share Drew's Make Up Artist's exclusive interview with behind the scenes scoop!
SENSAI Advisor: You worked exclusively with Drew Barrymore who play's "Little Edie Beale" in the film, correct?
Vivian Baker: Yes, I was her makeup artist, and I also oversaw the use of prosthetics for the movie. You know, most people don't realize that prosthetics can be used to achieve many different effects – they're not just for monster movies! We used them delicately to age Drew and Jessica Lange. I wanted to maintain their inner beauty throughout the process, and not make them appear too made up. These are beautiful women!

Show times: Sun. Apr. 26 2:00 PM HBO
Mon. Apr. 27 12:00 AM HBO
Thur. Apr. 30 12:30 PM HBO
Thur. Apr. 30 8:30 PM HBO
Sat. May 2 8:00 AM HBO
Sat. May 2 4:30 PM HBO
———————————————————————————————————————————
SENSAI Advisor: How did you achieve the aging process?
Vivian Baker: We created four distant stages of aging for the actresses from young to old and developed looks that were appropriate for each age. I wanted the makeup to appear natural enough that the look had their own hand; it had to look as if they had applied their makeup throughout the looks. I think one of the most elegant and exciting look was the iconic 1950's look for Drew, where you really see her radiant beauty.
SENSAI Advisor: What made the look iconic? Vivian Baker: The '50's were all about the eye brow…the arch, the strength and the subtleness…those brows said so much about the women who wore them. They were soft yet defined, sexy yet strong. The 1950's look was also meant to be beautiful, iconic and indicative of where the character came from. It's interesting what we know about women and their makeup–just like any woman, Little Edie found her place and her look at an early age, and she held onto it. I wanted those brows to be that charcoal grey and I knew it would be a thread for her character through her later years. The arc of the character was important to the look, to what she created—I loved the color. The SENSAI Colors Eyebrow pencil provided just the right depth of color and movement for the brow line–it was a terrific tool to work with! I had to move Drew through the ages of the character, none of which she as a person actually was, and I did it through the brow. I looked at her character through her face, and worked with her brows–which really express so much about a person–at all the different time periods and ages we had to take her through.
SENSAI Advisor: You worked with other key items from SENSAI on the film as well…
Vivian Baker: Yes, the Translucent Powder was also evident in the 1950's look, it provided a nice dewy yet matte look. With the mascara–I chose to use the SENSAI 38 Degree's Mascara. I had a lot of makeup to get on and off of her everyday. I needed a mascara to stay on and get off easily–38 Degree's does just that, it doesn't budget until you want it to. I worked with many wonderful brands on this film, in the 1950's look you see in the film–it was Kanebo that helped us create that look.
SENSAI Advisor: What was the experience like for you as an artist?
Vivian Baker: Drew is absolutely amazing and committed! I couldn't have asked or wanted or dreamed of anything better. I felt honored to be a part of this production! The entire team brought their A game, it made each us bring our best to the table–everyone was remarkable. The movie is so powerful, it moved me beyond my own experience on the set, and I was looking at the film last week in a screening–for the first time I was able to watch a film I worked on and be enrapt by the movie and the performances, and not just be drawn in to my own work on it–it is a remarkable film with amazing performances!

ABOUT VIVIAN BAKER: Vivian Baker has been working in film and television for 20 years. She is known for having a wide range of skills in makeup. She is known for her use of prosthetics, a wide range she has worked at over the years and learned from each experience in which she is ever-evolving. That's what makes it exciting for her, it was still in discovery. "I was responsible for using new techniques and technology–prosthetics are a whole different ballgame–they're not all monster oriented. Even though they were meant to age the characters, I wanted to see a level of beauty come from those women, and I think we achieved that—who they were still came through–it doesn't hide their acting it enhances it–that's the cool thing where we're going: Combining beauty with technology." www.vivianbaker.com