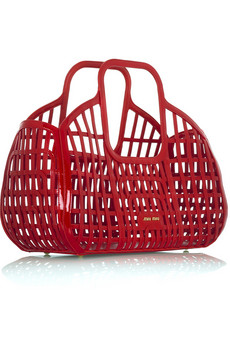 Cantaloupe for $1! Apples for $3! This is what I want to shout when I see Miu Miu's Cut Out Basket. It looks like it was inspired by ladies in Asia who shop for fresh fruits daily. You can see them out each morning before it gets hot; walking leisurely while chatting and laughing (sometimes carrying parasols). The only difference is their basket is made of plastic and cost $5.
Guess how much this one is? £484GBP/$696 USD. (And no, this is not an April Fool's Joke!) Okay so it's made of patent leather instead of plastic but still, it is way expensive even if you want to use it for a fun beach bag to hold you child' toys in. Not a bad idea to use for the beach, actually. No sand will stick inside as it will all fall through the cracks. Miu Miu Cut out Basket Bag at Net-a-Porter.com
What do you think? Snob, Slob, or for the Fruits?