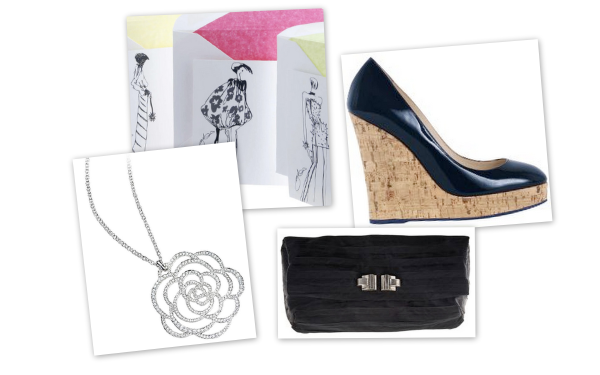 Your mother deserves every last penny in your bank account, at least that's what I'm telling my husband until my tots get jobs =) OK, fine, we just want your love and appreciation but a nicely wrapped gift would certainly make us smile! My job is to shop for you, yes, I love it, so here are some ideas that will definitely make every mother proud that her offspring knows exactly what she wants.
You cannot go wrong with a bag, all women are Bag Snobs whether she admits it or not. The new Tod's Helmut Zip Tote
, $1925, is beautifully practical – by that I mean a super awesome mommy bag that does not in any way compromise style and beauty. There are 2 compartments that are big enough for mommy's stuff and tot's stuff.
If you are carrying your own stuff already, your mom can lighten her load with the bag that every single woman on earth would cry to have and to hold – a Bottega Veneta Interecciato Hobo
, $1980.
And for date nights and evenings out, the Lanvin Ribbon Clutch, $1565, will go with everything but it is not just any black clutch. The ribbons add cuteness and flair that will stand out no matter what you wear.
With the summer approaching and Farmer's Markets in full swing, the Anya Hindmarch Fruit and Veggie Canvas Tote, $98, will be used on a regular basis and you know what that means – mileage for your gift! These totes are also great for travel, pool and beach. They come in other designs as well.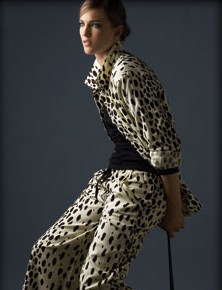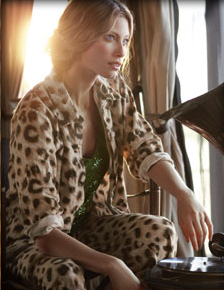 Peter Alexander makes gorgeous sexy pajamas so even though this is a typical gift, getting one of these couture PJ's will make you shine. I asked for one of these, I want to dress in all leopard but I know I shouldn't so these will stave that craving. For now. A few more years I will be in full old lady mode and get that leopard blazer I've been eying. The dalmatian option has the same appeal for those moms who don't need therapy. Peter Alexander PJ sets for $74 at their boutique at 109 South Robertson Blvd, LA, or order by calling 310-275-4438.
If you don't know your mom's shoe size, go ask her NOW! This is something you have to know. Or better yet, go shopping with her and have her try on both of these. The Fendi Bow-Front Pumps
, $705, is the ultimate lady-like shoe for lunching with her friends or fighting corporate pirates at work, these will make her feel feminine and powerful!
For the everyday running around shoe, wedges are comfortable and easy to actually run in if absolutely necessary. The Yves Saint Laurent Cork Wedge, $495, are so super hot. The cork wedge makes these very light and easy to take on her day. Comes in navy or black to go with any wardrobe.
You know your mom is worried about getting too much sun. And you bought her beauty products and sunscreen, even though she has enough in her arsenal to last a lifetime. How about approaching this from another angle, get her a big colorful fabulous hat! The Euginia Kim Honey Sun Hat
, $290, is great for poolside and seaside. And just think how big the wrapped gift box will be, keep her guessing all through brunch.
My girlfriends and I do what is called the "Leave me alone day" when dad takes over and we just do nothing. And the best nothing to do is take a long relaxing bath! The La Prairie Art of Bath Set
, $500, will totally revive and refresh. This set comes with different fragrance oils and natural oils to customize each bath depending on the mood and spirit. The recipe book has blends for Energy Flow, Power & Success, Passionate Bath, and The Art of Drifting; or she can create your very own. The perfect indulgence for much deserved relaxation.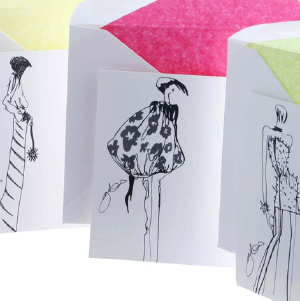 Smythson is known for exquisite stationary and accessories. The Giles Deacon designed Note Cards is the perfect gift for someone who has everything. Each card has a different design, perfect for the personal touch that your mom is famous for.
I am in love with this DVF Lidia Cardigan
, $425. It is lightweight cashmere, great for summer nights and the ruffles and 3/4 length is perfect over dresses. It is so hard to find something that can go seamlessly over summer dresses without looking clunky and ruining the light summery feel.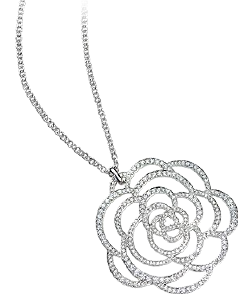 And for the piece de resistance, Chanel jewelry. The camelia collection from Chanel is classic and their most iconic of designs. The simplicity of the flower is beautiful and bold and this 18K White Gold and Diamonds Pendant for $25,000 is the most incredible of the collection. It will be cherished for a lifetime and beyond, she will most certainly pass it down to you 😉 The total weight of the diamond on this very large pendant is 5.07 carats.