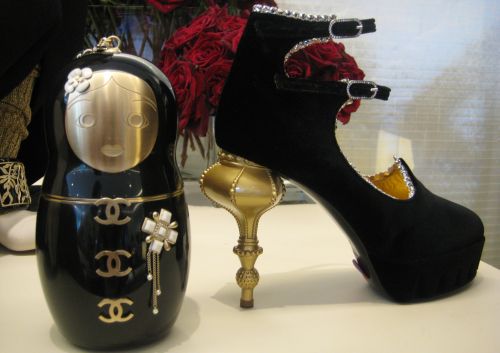 I previewed one of the most exquisite Chanel collections I have ever laid eyes on at the Fall 09 trunk show yesterday. It was an elaborate celebration of culture, art and fashion– one that only the Kaiser (and the Mademoiselle herself) could have executed so perfectly. The Paris-Moscow collection is a collector's dream– many pieces are by custom order only (three month delivery) which make them even more collectable. Glittering jewels, exaggerated pearl/beaded belts, embellished leather motorcycle jackets, embroidered cashmere coats, ornate dresses, handpainted and laser cut leather bags, matryoshka doll minaudieres– everything was fit for a Tsarina! The Paris-Moscow collection will be one remembered as the moment Chanel brought luxury back!
Beyond the theatrics, however, there were more than a few gorgeous and very functional bags. I ordered the "Portobello" tote in black below (also available in grey and brown). The zipper detail is not merely decorative– it has two uses- to zip up the front pocket and to use as adjustable strap! It's around 32cm and will be my daily easy tote! (jump for more!)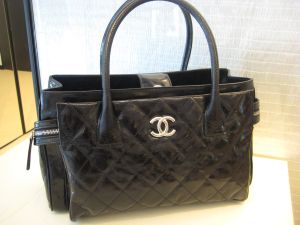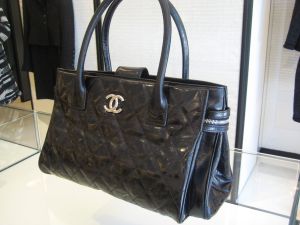 (The must have bag from Chanel Fall 09– The Portobello-a distressed lambskin tote that may be buttoned into a lady like bag or left open and casual. $2,375 call Alexis 214-520-1055 to order)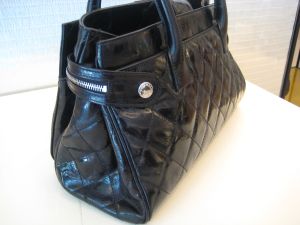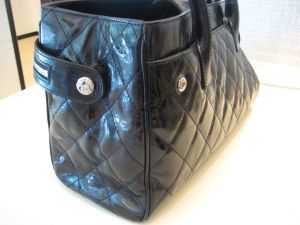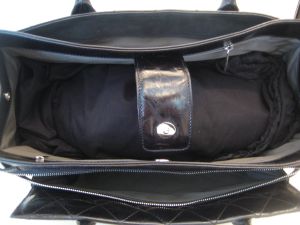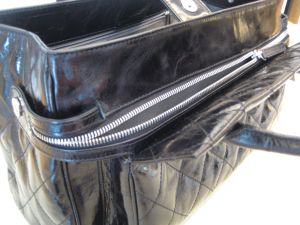 There are two buttons strategically placed that allows you to change the shape of the bag. So simple yet so genius! Three divided compartments make it useful for mom or career woman– and did I mention it is really lightweight!?!? The grey is fabulous but I think the black really sets off the distressed skin and the zipper.
This is a bag for the avid Chanel collector– it has the sky line of Moscow integrated into the quilted leather! You can fold it over or use as large tote. It also showcases the new "twisted" logo and chain. Love!!!!! It's $2,795. Call Alexis to order 214-520-1055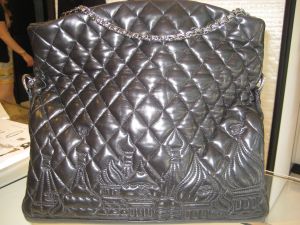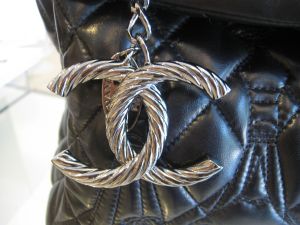 The red pearl/enamel minaudiere below captured my attention the minute I walked in, it has incredible details that combine the best of Chanel and Russian artistry. The tiny lion heads are symbolic in many ways– one of which is a tribute to Coco Chanel's astrological sign Leo– this is a custom order piece and will take 3 months to complete.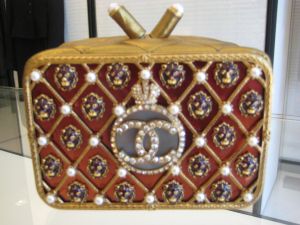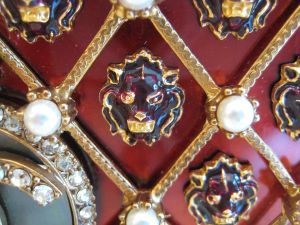 The classic quilted bag gets a dose of luxe treatment– handpainted in gold metallic and then lasercut to look like lace, it also has a jeweled chain strap. Another collector's item!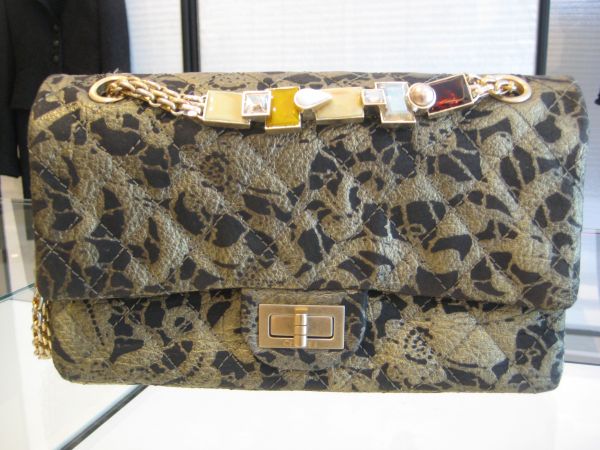 This belongs on Couture Snob but just had to share– how cute are these platform shoes? Called "Caviar", it is about 5 inches high with a 2 inch platform. Yes, please! The matryoshka doll bangle is also too adorable for words ($1,300)– my friend Ana ordered one but it was too big for me (as all Chanel bangles are!). At least I got the shoes! If you have the opportunity to view this collection, you must go!