Congratulations Deborah of NC for being our Quiz #1 winner!
BE NICE TO THE EARTH =)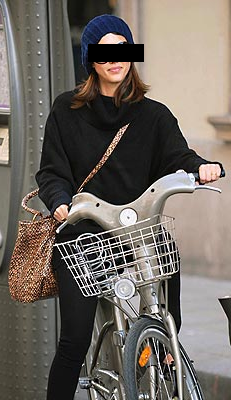 To celebrate and promote the idea behind Earth Day this month, we are doing major giveaways on beauty products that are eco-friendly, which is good for Mother Earth and really good for your face!
Elemental Herbology uses all natural and organic ingredients but is effective. And everything smells so good!! We are giving away the Biodynamic Facial Souffle worth $102. It is a intense hydrating mask for overexposed skin, perfect for the summer. Also the Cool and Clear Facial Cleanser, worth $61, a gentle cleanser that is free of soap and fragrance, but amazing for washing away dirt and congestion to prevent acne, again perfect for the summer with all that sunscreen on your face. The total giveaway prize is $163! Thank you Elemental Herbology for sponsoring!!
To win, do something nice for the earth today and answer: Who is this lovely environmentally conscious star often seen riding her bike? Put your answer and what you did for the earth in comments by Sunday April 12th at 11:59pm EST. One entry per person please. We will choose one winner among all correct answers using a random computer drawing.
We will be doing Earth Day Giveaways everyday starting today until Earth Day on April 22nd.