To celebrate Mother's Day, we asked our favorite mommies in the fashion and beauty industries to share their best mom tips and tricks to balancing life with family and work. To kick off this feature, we have none other than Bobbi Brown. Best known for her line of make up and products that make women naturally gorgeous; Bobbi is also mom to three teenage boys (one is at Stanford!) and wife to a handsome real estate developer. How does she do it all you ask? Read on!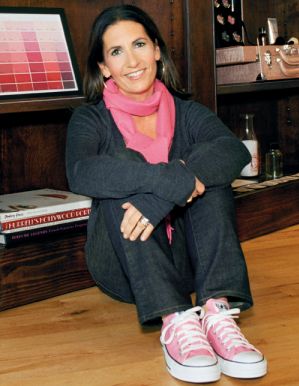 1. What do you want for Mother's Day? To spend time together with all of my family. We have such busy lives it's hard to get us all in one place at the same time.

2. What is your most cherished Mommy moment? The birth of my three boys.
(Jump for complete interview!)



3. How do you balance work and family life? My family always comes first. I put my kids' schedule on my work calendar so I always know what's going on.
4. Mornings are tough for moms. Do you have any tips or advice on how to look put together with no time to spare? Being a mom on the go, I know how important a quick makeup routine is. Concealer, tinted moisturizer, Pot Rouge on lips and cheeks, and a quick coat of mascara will get you out the door in 60 seconds.
5. Do you have efficient and tantrum free travel ideas? Special gadgets, toys or treats? iPods (I have teenagers).
6. Most working moms experience mommy guilt. How do you cope and find mental balance? Try to breathe- drink water and stay in the present.
7. How do you pamper yourself after a long week? Exercise (spin, weights, yoga), and then a martini and dinner with great friends.
8. Best Mother's Day memory? One year for Mother's Day, my husband gave me framed photos of each of my sons when they were one day old.
9. What do you think is important to teach your children? Always look people in the eye, treat everyone with respect, and have a firm handshake.
10. What is the most important lesson you learned from your own mother? To be nice to everyone.