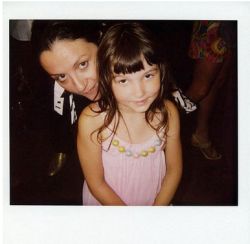 Fashion entrepreneur, Reality TV Star (of The Hills and The City with her own show, Kell on Earth coming next Fall), and a woman who not only knows her mind, she speaks it, daily. Kelly Cutrone is best known as the tough as nails CEO of PR, Marketing and Branding firm People's Revolution (with clients ranging from Vivienne Westwood to Sass and Bide) but when it comes to the light of her life, daughter Ava, she is soft and adoring. What other high profile career mom makes the time to shuttle 21 kids to American Girl on a Friday night!?!? Not one for live in nannies, Kelly is hands on and proud of example she is setting for her 6 year old.
Read on to find out how Kelly balances life as a busy mom and fashion entrepreneur!
1. What do you want for Mother's Day?
I want every child on this earth to know the love of a mother
2. What is your most cherished Mommy moment? Everytime Ava says, I love you mommy

3. How do you balance work and family life?
I work and live in the same building, I do not have a live in or weekend nanny so I can spend more time exclusively with my daughter, we take wonderful memorable vacations, go the to country house on the weekends – you just do it – sometimes one wins over the other – but it all works out! (Jump for more!)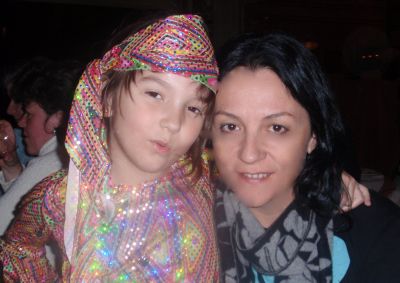 4. Mornings are tough for moms. Do you have any tips or advice on how
to look put together with no time to spare? Luckily my look is not about being put together – I wear no make up and
wear my hair pulled back – my advice is love yourself as you are and less is more.

5. Do you have efficient and tantrum free travel ideas? Special
gadgets, toys or treats?
Nintendo DS Lite and chamomille tea.
6. Most working moms experience mommy
guilt. How do you cope and find mental balance?
I refuse to feel guilty for being a positive and independent role model for
my daughter who manifests enough money to provide her with a wonderful
life in Soho. She has a private school education which is like a dream and a
wonderful, stimulating and honest environment – children watch everything
and I like and support what I am showing my daughter.
7. How do you
pamper yourself after a long week? Truth is sometimes I do not – but I love massages.
8. Best Mother's Day
memory? Having brunch with my mom and my daughter – three generations is so
sweet!
9. What do you think is important to teach your child? That she is loved forever no matter what. Honesty, kindness and a true
understanding of this world.
10. What is the most important lesson you
learned from your own mother? The love of your family is the most important thing and that there are
rich people who are miserable and poor people who are richly happy.