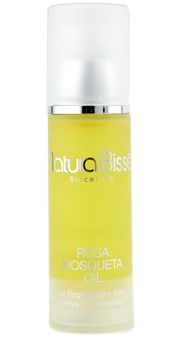 I keep a bottle of Natura Bisse Rosa Mosqueta oil in my "must have" skincare kit for skin emergencies. There have been so many times that it literally saved my family's skin. Sunburns on the beach? Rosa Mosqueta oil heals it! Wind burn from skiing? A few drops of the oil and skin instantly calms. I even applied Rosa Mosqueta oil to my toddler's face under his sunscreen before letting him out in the snow and it kept his skin from chapping or burning last winter in Vail!
Last week I had a horrible reaction to a few products I tested for review. The Sensai Hydrachange mask helped the first day but it got worse throughout the week. I remembered my Rosa Mosqueta oil and used it exclusively for 3 days. No eye cream, moisturizer or any other products. Just the Rosa Mosqueta and a few days later, my skin was completely healed. It also kept it moisturized while healing.
It is made of the purest ingredient of Rosa Mosqueta oil (25% of the intensive regenerating oil)– which has been used for centuries in South America for helping heal scars and enhance skin condition. I actually thought my skin would scar last week, that's how bad it was. But this morning, looking in the mirror– my skin is as velvety as ever. You can buy this at Neiman Marcus, Bergdorf Goodman and Barneys New York but I could not find it online. Try it and let me know what you think! It is $52 and will last you at least a year, you don't need a lot! A few tiny drops will go a long way! Jump for additional benefits of this miracle oil!

Beneficial Effects:
·
Excellent regenerating effect.
·
Stimulates the production of Collagen.
·
Maximum prevention and healing effect for stretch marks.
·
Smoothes and hydrates, making skin more supple.
·
Essential after micro-pigmentation and tattoo procedures, hair removal
through electrolysis, burns, etc.
·
Penetrates easily.
This treatment is especially recommend for burns, stretch marks, scars and
excessively dry rough skin