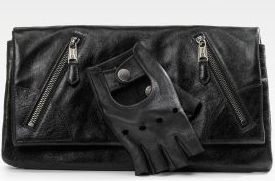 This clutch is so weird it's kind of cool. McQueen must have been cold the day he designed this and thought of a stylish way for us to keep our hand warm while holding a clutch. The glove is removable (updated, the SA I called told me it was not) so you can leave it on or off depending how edgy you feel that day.
Say what you will but this is definitely a conversation piece and you'll be noticed wherever you go! What do you think?
Alexander McQueen glove clutch $895 here
The minute I saw it I thought of the uber stylish 17 year old Jane Aldridge who blogs at Sea of Shoes. I am obsessed with her blog– it's hard to believe she is only a teen with that insane sense of style!