A number of Lancôme's celebrity makeup artists worked with celebrities, models, and designers the night of this year's CFDA Fashion Awards. Here's the scoop on a few of them!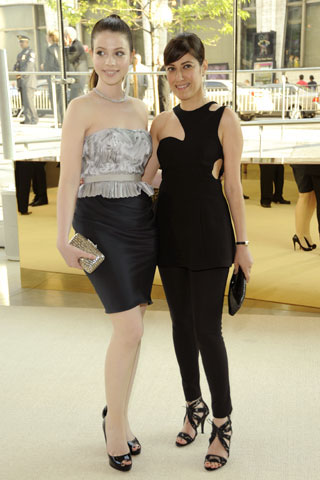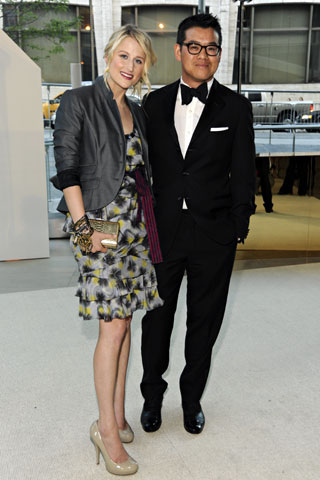 Michelle Trachtenberg and Mamie Gummer; images from style.com
Celebrity makeup artist Sandy Linter worked with Michelle Trachtenberg. She accentuated the actress' eyes by first applying Effacernes Waterproof Protective Undereye Concealer Porcelaine I
as a shadow base, under eye base and skin corrector giving Michelle a silky soft complexion. Sandy then lined her eyes with Le Crayon Kohl in Black Coffee
giving it a smudged effect for a soft contour. To accentuate her eyes even more, Sandy applied Color Design Eye Shadow in Click
for a smoky look and Bikini Golden on the inside. She then coated Michelle's eyelashes with Ôscillation Vibrating Mascara to give them an extended effect and finish the look. More after the Jump!

Lancôme makeup artist Andrew Sotomayor created Mamie Gummer's look. First Andrew applied Color Ideal Hydra Compact in Beige Diaphane and Effacernes Waterproof Concealer in Light Bisque to give Mamie a flawless complexion. He then applied Color Design Blush in Retro Rouge to give her cheeks a fresh flush. To make Mamie's eyes pop, Andrew first conditioned her lashes with the new Ôscillation Powerbooster and coated them with Définicils mascara in Aubergine Royale to give her lashes definition and length. He then defined her brows with Le Crayon Poudre in Taupe
and applied Le Crayon Khôl in Black Ebony
to the upper lash line. To finish the look, Andrew used La Laque Fever in Plum Wave to create a high-shine, vibrant pout.