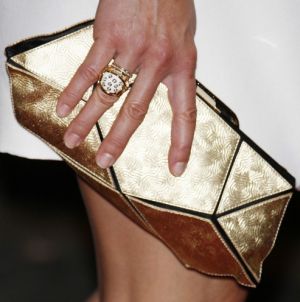 It's hard to believe this is the same style Roger Vivier clutch I ragged on earlier this month. Clutched in the hand it is so much more appealing! It also helps that it's in a beautiful gold finish and not a moldy shaded lizard. The gold patchwork really stands out against the black finish and looks crisp and sharp with the white dress. I Love!!!
I guess you can tell I'm obsessing– but I think it is also the person carrying it. I saw it on an actress whom I adore and it was totally perfect with her summer chic dress.
Can you guess who she is? I've given you the 4 options below– vote for fun or leave your answer in comments to win a Bag Snob t-shirt (made of the softest cotton from American Apparel!) and Bag Hook!
I'll reveal the answer on Sunday night at 11pmEST and pick winner via random drawing. US residents only please, one comment per person, have fun!