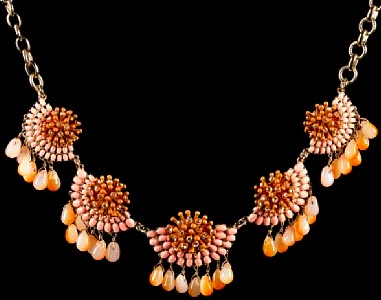 J Crew Beaded Fireworks Necklace
In case you hadn't picked up an appropriate accessory for the forthcoming festivities this weekend, J Crew has an affordable, fashionable option that will light up your ensemble with an explosion of coral-colored fireworks. Fortunately, they've spared us the red, white and blue concoctions of cheesy flag-laden and/or inspired pins, t-shirts and other paraphernalia that so many of our relatives tend to unearth once a year. Be the exception to that rule and wear this $118 necklace instead. Trust me, you'll be a better American for it.
On an unrelated note, I can be a complete idiot from time-to-time, and realized post-posting that I did in fact confuse John Hardy with Ed Hardy in a previous post about that gorgeous dragon bracelet. Thanks to those of you who pointed that out after the fact as well. Oops. Sorry John Hardy!