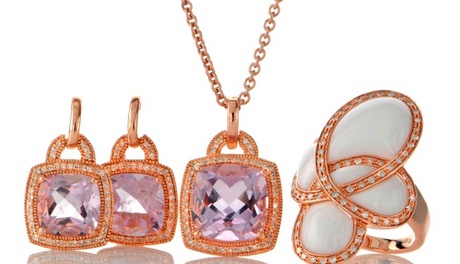 Carol Brodie is no stranger to the finest of fine jewelry. As a luxury and style expert, she has personally held many of the world's most fabled gems, including the Hope Diamond, the Dresden Green and the Pumpkin Diamond. She has selected the jewels worn by countless A-list celebrities on the red carpet, while working side-by-side with famed designer Harry Winston. With her resume, it's no wonder that she has taken to design herself, though it is a wonder why it took her so long.
After 20 years of honing her eye for luxury, style and elegance, Brodie has created a signature collection of fine jewelry exclusively for HSN. Inspired by many of the memorable faces Brodie has worked with over the years, including Jennifer Lopez, Scarlett Johansson, Kate Hudson, Reese Witherspoon, Gwyneth Paltrow and Halle Berry, the Rarities Collection was created to serve as "accessible luxury" for those of us that aren't A-listers, with price points that won't break the bank, ranging from around $200 to $800.
The Bellaire Collection pictured here is just one facet of the Rarities launch, which will take place on June 21st on the Home Shopping Network. I am partial to the lilac quartz and diamond drop earrings in rose gold vermeil. Rose gold is fun because it's unexpected and the lilac quartz sets it off beautifully. The ring features white quartzite and diamonds, also set in rose gold vermeil.
I will look forward to seeing what Carol Brodie does next!