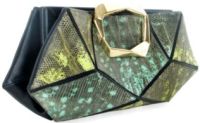 Roger Vivier (inventor of the stiletto heel and of the pilgrim buckle fame) has a new clutch that doesn't seem to quite capture the essence of the legendary designer. The tejus (tejus is a type of lizard with distinctive poka dotty spots) faceted clutch is interesting in itself and really does not require the multi hued colors (that resemble mold). A solid shade would have been much more chic plus it'd be less noticeable that only bits and pieces were used to make this 850 Euro/$1200 clutch. I do like the modernized pilgrim buckle and I guess one could argue the prism like patches look edgy and modern in a Star Trekkish way (have you seen? I've heard so much about it but am just not a Trekkie and don't care!) but still– it's a lot of money for pieces of scrap skin.
ROGER VIVIER – TEJUS FACETED CLUTCH is
27cmx17cm and available at Luisa via Roma.
What do you think? Snob or Slob?