Update: Congrats to Tara! It's the lovely Dita von Teese with the YSL patent uptown!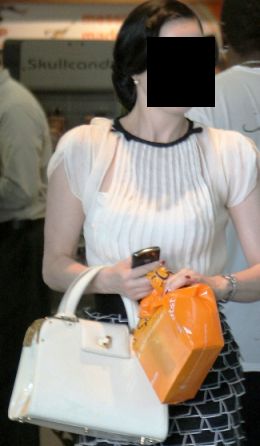 Happy mid week everyone! Summer work weeks are a major drag! All I want to do is hang out with my kid and play! This week we went to a super cool organic Blueberry Orchard– if you have never picked blueberries I highly suggest doing it with 8 kids as I did. Messy but fun, blueberries bushes are only 3-5 ft high and the biggest ones grow beneath the bushes in the shade so the little ones can pick them, too. Blueberries are my favorite food, I eat a box each day like candy– so good for you and will make you smart (at least that's what I tell myself and my son). Or you can just go to Wholefoods like this celeb toting a fabulous bag.
To win a Bag Snob shirt and Bag Hook— tell me who this way too dressed up for the market celeb is. Bonus if you identify the bag!
Please leave your answer in comments US residents only please, One comment per person. Please include your email. Winner selected via random computer drawing Saturday morning at 9am!