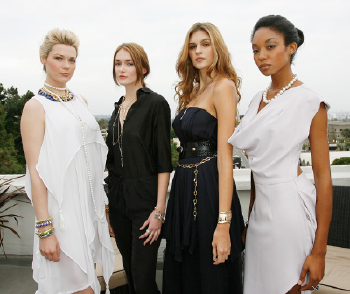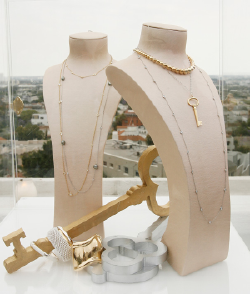 Models wearing the Key Collection layered with other pieces; Tiffany display on the balcony of the suite overlooking Hollywood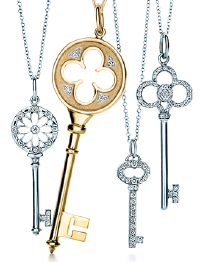 Last night Vogue hosted a party for Tiffany at the Chateau Marmont for the launch of Tiffany's new Key Collection. It was an intimate affair in the penthouse suite of the hotel with cocktails and hors d'oeuvres. Vogue's Lauren Santo Domingo went around showing guests how to make the collection versatile by layering it with other pieces. It was such a small party that everyone was mingling and having a genuine good time. I say that because a lot of these parties, believe it or not, is not that fun. There were celebrities there, like Nicolette Sheridan, Melissa George and Jordana Brewster who were totally relaxed and unguarded. In fact, Nicolette came up to my husband and I when I was taking pictures of him and she joked that he is America's next top model. See, this is funny because he clearly is not, but because he is so adorable, it was fair game. We started chatting and I took the opportunity to ask her a few questions. One was easy and one was tough, she raised an eyebrow at first because she thought it was going to be about her personal life but I always stick to strictly fashion! I asked what she was wearing (easy): Michael Kors with YSL stiletto sandals. And then the toughie, what is your favorite bag?: "That is a tough one! I can't pick just one", she said. She thought about it for a while but then came up with, "YSL, Chloe and Gucci".
The collection consisted of various skeleton key pedants, some with pave diamonds and others in simple gold or silver. There were also linked chain necklaces with different key charms. My favorite is the pedal key pendant with diamonds in platinum on a long chain ($6825). It is kind of mysterious having a key dangle around your neck. It is like you have a secret or that there is something deeper if you can get to the key and open it. I really love that concept! The collection is available at all Tiffany stores and online.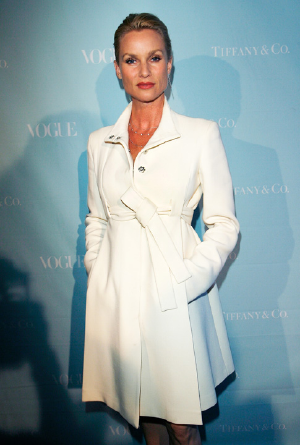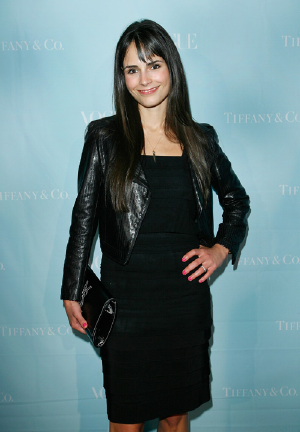 Nicolette Sheridan; Jordana Brewster