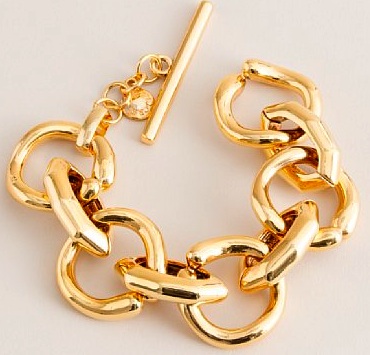 So I had lunch with my mom the other day, and she was wearing a number of pieces I was drooling over, including a museum-quality cameo and a gold link bracelet. I asked her if it was vintage – and she said yes. (Keep in-mind, that my mother's business is vintage and estate jewelry). That being said, I wanted the bracelet, but she wasn't about the part with it because it is the only gold-tone piece she owns at the moment that works with the recently acquired cameo.
Anyway, today, I found this $58 Estate Link Bracelet on the J Crew website – and I'm thrilled, because it practically mirrors my mom's!
Speaking of my mom, I'll be doing a post on her jewels, (the ones that are available for purchase) soon, but she is lacking a website, so it might take a bit longer than I'd like. Let's just say however, that she is a hidden resource in Los Angeles for phenomenal vintage pieces that won't break the bank, that sell for 10 times the price elsewhere.
In case you get impatient, and don't want to wait for the next post because you're a vintage jewelry junky like myself, you can check out her wares at all of the Senna Cosmetics boutiques in Beverly Hills, Tarzana, Corona del Mar and Valencia – www.sennacosmetics.com. And while this isn't a Beauty Snob post, Senna Cosmetics' products are amazing – and I don't care what anyone says – Anastasia is NOT the Queen of Brows. Eugenia Weston, founder of Senna Cosmetics is.