Congrats to Casey A of Laguna Beach!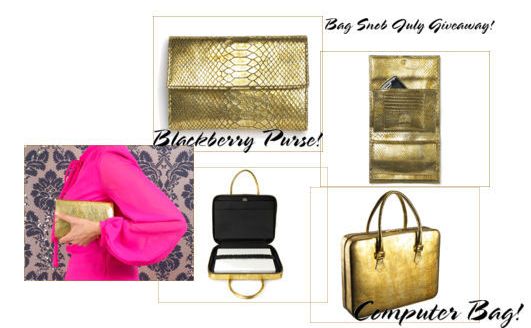 Are you a crackberry and internet addict and need to be connected at all times? Then you must enter to win our Blackberry clutch/purse ($331) from Violet May London with matching computer bag ($1,445)! Both are in the most stunning distressed gold finish, the latest style for the season, who says tech nerds can't look chic?!?!? The value for both is over $1,700 – make sure you sign up today!
To win, you know the drill, fill out the entry form on our newsletter sign up page. You will receive our weekly updates as well as be entered to win, all in one fell swoop. If you already receive our newsletters, you will still need to fill out the form to be entered in this giveaway. Contest ends on July 31st at 11:59pm EST. One entry per person please and international readers welcome!! A huge thank you to Violet May London for this amazing giveaway!

Rules: