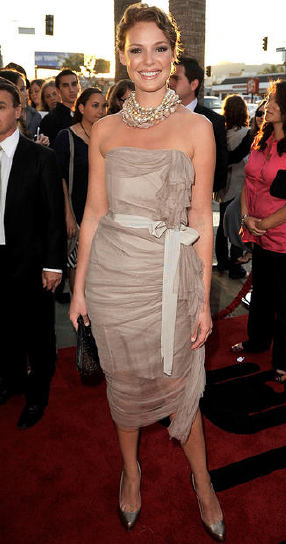 Katherine Heigl is one of my favorite actresses, she has such natural beauty! I was really excited when I was invited to The Ugly Truth premiere, not only because I love her but these are my kind of movies. She was absolutely stunning!! She wore Lanvin from Fall '09 with metallic Louboutin pumps and the most amazing Tod's clutch, a gray snakeskin Girelli pochette. So amazing to contrast the nude with gray.
And can I just tell you, Gerard Butler is freaking HOT! He's like dirty hot, you don't want to marry him but you'll sleep with him =) I was expecting a typical romantic comedy with all its trappings (I love them!) but this was surprisingly different. Sure, the it ends as expected, has funny girl / boy bantering and gratuitous nudity (Eric Winter shows his bare butt in the movie and the Sony executive who I got the tickets from asked him at the after party if he waxed for that scene! She thought she would get fired but didn't care, she needed to know. The answer, NO!! You have to see the movie just for that scene especially knowing he has a naturally smooth butt).
The things Gerard Butler says in the movie are borderline shocking and very male-centric but hilarious. Which means, you're boyfriend/date/husband will enjoy it. Katherine Heigl was great as usual, and whatever people say about her pain in the ass behavior on Grey's Anatomy, her entire cast was there to support her (I saw her chatting with Justin Chambers, T.R. Knight and Kate Walsh). Definitely must see!!