Maya, Julieta's daughter
We all have our dirty little secrets but when it comes to motherhood, there is nothing to be embarrassed about if we had to cut some corners or do things that we're not exactly proud of. We've all been there. I had to shut my 2 screaming tots in the car one time so I can finish a phone interview with the LA Times while standing on the sidewalk. There was a tight deadline for the reporter and I wanted to make sure I got my quote in! I want to liberate ourselves from any guilt we may have because sometimes, you just gotta do what you gotta do. That's why I am starting this new column, Mom Snob Confession, where moms can not only come clean but be proud of their creative tactics. The first person I thought of for this is Julieta. I work with her (she is the Director of Network and Community Marketing at Glam Media) so I know how tough and demanding her job is but she is also a single mom with no family support. Whenever I am feeling overwhelmed, I think about how easy I have it because I do not know how she gets through the day sometimes!
First of all, what indulgence do you do that is just for you?
I am religious about my pedicure. Every 3 weeks. I also try to get a massage every other month but it is hard because of lack of time.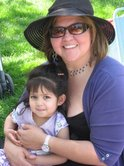 It is 6pm and you have nothing planned for dinner. What is your emergency recipe you can whip up in 30 minutes or less?
15 minutes…Spaghetti (or any pasta), steamed broccoli, steamed carrots, butter, parmesan cheese. You have everything you need, carbs, veggies, a little fat and protein. My daughter loves it and it does take 15 minutes.
What is the one piece of advise you'll to pass down to your daughter when she has kids of her own?
Learn how to be organized. I think it has helped me tremendously specially because I have done it on my own so being organized has helped a lot. And give your kid lots of kisses and hugs. I don't think you could ever give your child too many of those.
Confession time. What have you done to try to get through the day?
Do a conference call in the car while I drove my daughter around to fall asleep so I can talk. Another thing I used to do is when she was around one, I would feed her dinner while she took her bath. It would save me so much time and I could put her to sleep right after and go back to working.