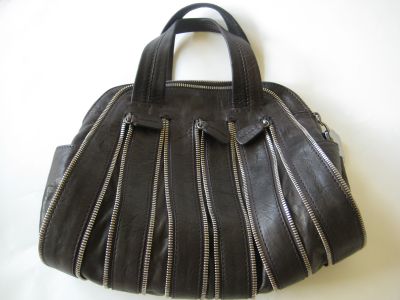 I've been wearing Donna Karan clothes since college but have never had the itch for her bags… until I saw the small Gotham tote today. I am speechless (in a good way) over the design of this super kick ass bag. Ever the pragmatist, Donna Karan finds the perfect balance between trendy style and practical function and executes it flawlessly. The punk rock zippers are on trend and totally make the bag but what I really love about it is the multi compartments (3 main to be exact) and the many pockets to stash my goods. The outer side pockets are large enough for an iPhone and Kindle, so practical! Can not tell you how many times I get excited over outer pockets only to find they fit nothing but a postage stamp. But this is not the best part about the Gotham, the collection (there is a larger Gotham tote @ 14″x15″ and clutch) is made of organic crinkled lambskin! This eco-friendly leather uses natural skins (by products) that starts at a chemical free farm and dyed by a tannery that is ISO 14000 certified using only vegetable tannins. Hello! Eco chic has never looked so hot! This is a major winner in my book. The one I'm getting is in espresso, a rich dark coffee distressed shade that almost looks black. Sublime! Small Gotham tote– 14″W x 11″L (7″ drop on shoulder straps) $1,495 at Donna Karan boutiques call 212-861-1001.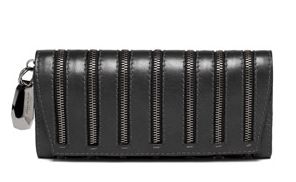 The Gotham convertible clutch bag also caught my eye. It has the same punk rockin' zippered style with a removable long body chain. The perfect complement for your hot date nights. Zippered interior to ensure nothing falls out. 11″W x 5″L, $995. (Jump for more photos!)
Donna Karan Zipper leather shoulder clutch
Donna Karan Small Zipper Satchel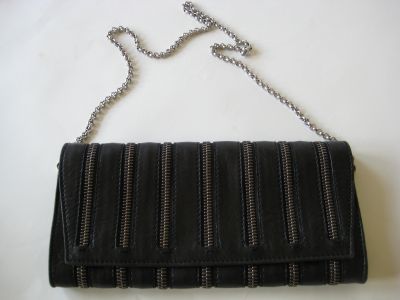 The clutch is just as chic with the long body chain, the better to dance the night away.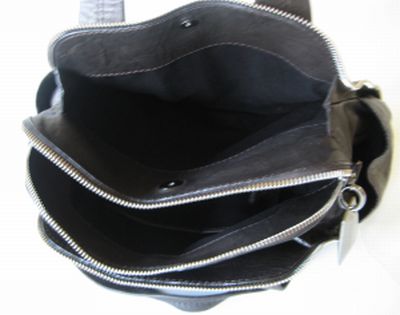 Center compartment zips up and has hidden interior pocket. The outer main compartments have magnetic clasp closure and are so practical!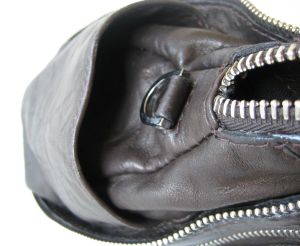 Nothing gets me as excited as large side pockets that aren't obtrusive and ruin the overall design of the bag. This is a genius way of incorporating functional outer pockets to a bag! I hate digging around for my iPhone or keys in a giant bag and this is a huge selling point for me!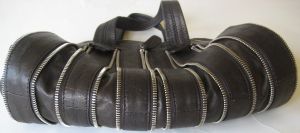 The bottom of the tote, the zippers may be zipped all the way around and gives it a totally different look. Me, I like them open.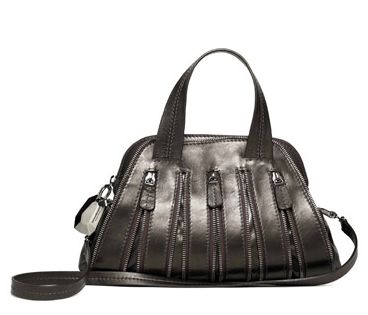 This shows the bag with the convertible strap, I like it without but could come in handy while traveling, riding a motorcycle, running after toddler, etc.