If you want to be on trend this Fall and want something really daring and sexy, go for a red hot bag!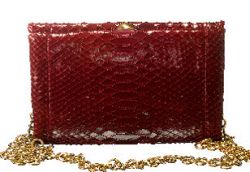 Red is back and better than ever, in everything from a distressed YSL Red Hobo ($1,395) to a timeless chic Valextra Boston bag ($2,190), this is one color you can not do without this season! I am also in love with Ungaro's red studded clutch (900 euro/$1,273 USD) — totally '80s and so fabulous with the multi shaded and sized studs! And of course you can not go wrong with the Balenciaga Arena Giant envelope clutch, it's become a cult classic and the dark red shade is not as bright as some of the other styles. I am especially craving Sang A's fiery red python Elsworth with delicate brushed gold chain ($1,160)– the color is amazing and will be fabulous through the holidays!
What do you think of Red's comeback? Snob or Slob?