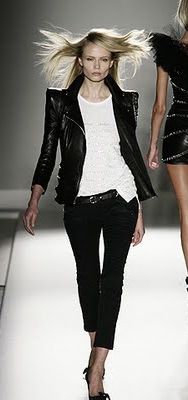 Stiletto Jungle shops for Cindy Crawford's luxe cut off shorts.
Keira Knightley photoshopped nude for Chanel ad – Allie is Wired.
Bag Bliss loves Thomas Wylde's "Day of the Dead" Clutch!
Bag Snob– Fall Must Have: The Red Bag!
Beauty Snob tests Parissa Wax Strips!
Coquette picks her favorite bold plaid shirts for fall.
Couture Snob is on the fence with this Moschino Sagety Pin dress. Where do you stand?
The Daily Obsession finds the best scents for summer.
Fab Sugar's Fab Faves once again include Sienna and her wicked style.
Fashion Pulse Daily loves fall's military trend – thanks a lot Balmain

STYLE360 announces Fashion Week show dates and designers . I'm Not Obsessed has the info.
Win a free Brazilian Blowout treatment, courtesy of The Jet Set Girls.
Jewel Snob will have you turning heads with these Jose & Maria Barrera teardrop earrings.
Kristopher is using SensEpil home laser hair removal
Second City Style is ready to go mad for plaid this fall!
Shopping and Info needs the Balmain suede boots celebrities are wearing for Fall.
StyleBakery.com has the real dirt on flip flops (ewww) and offers some stylish flip flop alternatives
Stylehive is loving the look of leather jewelry and has a slideshow full of ways to adopt this edgy fall trend.
The Beauty Stop shares tips for creating fall's cat eye look.
The Shoe Goddess solves your problem of finding warm, yet chic winter boots- Tashkent by Cheyenne shearling booties!
Tot Snob is convinced the Thudguard Protective Helmut will save mom's some heartache and tots some headaches.
eye4style talks Very Hollywood with with designer Michael Kors.