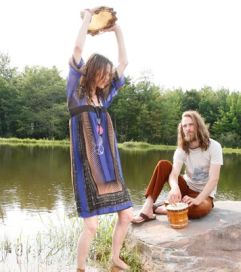 A lot happened in August of 1969. The first man walked on the moon… I was born…. oh and there was Woodstock. As Neil Armstrong stuck the star spangled banner on the moon and as I cried my first cries, boho chic hippies roamed in their Levi's and peasant blouses (sans bras of course). To celebrate the 40th anniversary of what's been touted as the "anti-fashion fashion event" (aka Woodstock), designers pay homage to the era when full frontal and free love ruled.
Above left: What Comes Around Goes Around sweatshirt and
UGG – Tasmina sandals $56; 3.1 Philip Lim vest,
LNA Side Tail V Neck Top, and Frankie B. jeans; Creatures of the Wind poncho, and True Religion jeans; What Comes Around Goes Around shirt, Ksubi jeans, and Vans shoes;
Mara Hoffman CAftan.
Above right: Philosophy di Alberta Ferretti dress, Yves Saint Laurent necklace and iLuck necklace. On him: Trunk Ltd. T-shirt, True Religion Brand Jeans jeans, JR de Bellard Fine Jewerly necklaces, Motif 56 belt and UGG Australia' sandals.
Via WWD
Left: Gypsy dress, Alaze earrings, Rosena Sammi bangles and Hollywood Trading Company bag. On him: What Comes Around Goes Around shirt. Ksubi shorts and Pono necklace
Center: Levi top and bell bottoms;Patricia Underwood hat;Lost Art poncho
Right: Christian Roth sunglasses, Ralph Lauren Collection shoes, Streets Ahead belt, Chocolat Blu bag, Celine sandals, Chan Luu necklace, The Branch bangle, Leatherock bag, Chan Luu necklace and Erica Anenberg ring.
LeatherBikini.com top and Missoni pants. Preshs bracelets (worn as chokers), The Branch ring and Nicole Miller belt. Tapestry and Pillows from Urban Outfitters.