Guest Blog by Liza Powel O'Brien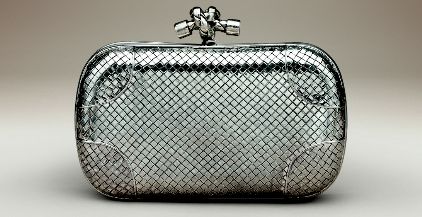 Amongst the veritable miles of luscious leather that line the walls of each Bottega Veneta boutique you will find almost every possible incarnation of size, shape, and neutral shade of the iconic Veneta bag, along with scores of other styles–woven and plain; soft and structured, in everything from lambskin to crocodile–all masterpieces of handcrafting. The Veneta is, in fact, so iconic that it may be hard to find a spot in the world where at least two women in the same room are not carrying some version of the luxe and slouchy bag. Not so, though, for the limited edition knot clutch–a perfectly-sized minaudiere that comes both in a range of subtly-colored satin or, for the less quotidian option, a limited production of unusual materials–exotic skins, precious metals–that only come around once in a lifetime. For example, this season features, among others, an antique silver version that gives new meaning to the term "treasure box." Made by hand-weaving together strips of sterling silver, this piece is so labor-intensive to produce that only a few were made–and only a handful of those are still available in the U.S.
Antique Silver Knot, $7700 at bottegaveneta.com or call the fabulously helpful Krista at
310-858-6533
to hunt down more elusive pieces.