Congratulations to Veronica G. of NY! It was hard to select so I let my four year old choose by asking him his favorite letter of the day. He chose V, so we went to the V section of members and I read the names to him, he chose Veronica. Congrats and enjoy your clutch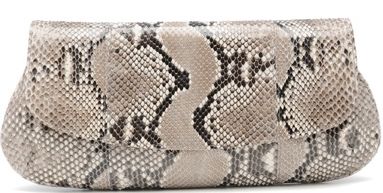 One lucky Bag Snob Fan page member on Facebook will win a fabulous Adriana Castro Colette clutch ($850) in natural glazed python! This is the perfect clutch for all seasons, a neutral that you can wear with everything and take anywhere! It's 13″ wide so it will make a great day bag as well! Jump for further bag details and rules.
To win, you must become a Fan of the Bag Snob Fan page! .
It's that simple! And please follow us on Twitter for updates!
A huge thank you to Adriana Castro for sponsoring this giveaway. During this giveaway, Bag Snob readers will also receive a 20% off discount in any order! PROMO CODE: ACBAGSNOB
Please join Adriana Castro Fan Page here (she gives away lots of bags to her fans, too! Don't miss out!) and follow her on Twitter here!

Rules: Contest will run from August 5th – September 5th. All readers welcome to join– you MUST be a Bag Snob Fan Page member to win. Winner will be chosen via random drawing on September 5th at Midnight. Winner will be announced on Facebook Fanpage and on Bag Snob by September 30th. One entry per person.
Winner will receive:
Adriana Castro Python Collette Clutch

Color: Natural Glazed
Retail Price: $850
More
Details:
Genuine Python
Hidden magnetic closure on flap
Interior open pocket
Suede lining
6 ¼"H x 13″W x ¾"D