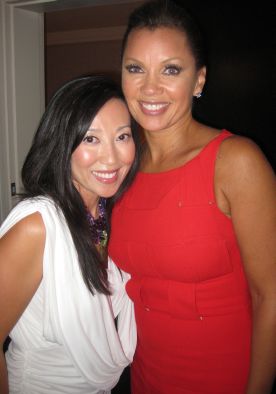 I met Vanessa Williams last week when she was in town to promote an organization near and dear to both of us– Dress for Success. After her presentation at Hotel Palomino, we went up to the Presidential Suite with a few friends to hang out and get to know Vanessa better. Of all the women I have met through the years (celeb or not), Vanessa is the most refreshing and nice! You almost forget this is a two time emmy winner, a former Miss America, award winning singer, Broadway star and super famous tv and film actress (not to mention she is out of this world beautiful)! She zeroed in on my dress (Derek Lam) and jewels (Ginger McGann Designs) right away and told me she wanted to wear it on the show. After we were done talking about 'me', I asked her a bunch of random questions. (By the way, she is so humble. When I told her the event sold out and we had to turn away hundreds of people she was so surprised and delighted and repeated it to her PR person who was with her!)

You literally can ask this woman anything and get a straight answer. Ask her when she started botox, age 40. Ask her how she keeps in shape– it's an effort as she ages and she works out hard 3-4 times a week. How does she balance life as a mother and working woman– she says there is no balance, she does what she can and tries not to feel guilty (she hosted the Daytime Emmys on Sunday in LA, flew home on the red eye to be on Ugly Betty set by 6am– she had her 22 year old daughter with her who said after the ceremony, "wow, you can sing mom"– uh, yeah! She flew to Dallas that Tuesday and left late the same evening, this time with her 9 year old in tow. After filming for Ugly Betty on Wednesday, she had to get on a flight to Orlando for another appearance– I am tired just writing this!) When asked what else she'd done, she mentioned Restylane and that she's considering a few injections into her neck. What? No PR person pre-wrote her FAQ? You can tell she's just speaking from her heart, and I loved that.
At one point the photographer asked us to pose with our arms up (I complied cuz I'm vain) so they won't look big– you should have seen her face! She would have sucker punched him if she wasn't such a lady. She's proud of her arms cuz she pumps iron to get them like this! Gotta love her!!!!!! Vanessa also said that Ugly Betty stylists are being mindful of cost of productions and waiting for items to go on sale to purchase– "With the economic situation what it is, we scaled down in terms of the
type of clothing that we're getting". She also said "There was a Naeem Kahn dress that went for $3,000, and they watched it
and watched and by the time we got it, it was like $800. So we are
being mindful of the budget and waiting for markdowns on Ugly Betty." Vanessa asked me to send her info on my jewelry I'll definitely be sending lots of other suggestions as well (like my secret shopping splurges at 75-90% off)! I know many designers would love to dress her but it's so good to hear that they are actually purchasing the items instead of expecting them for free 🙂

Vanessa in red dress by Carmen Marc Valvo. Watch Ugly Betty premiere on October 9th!