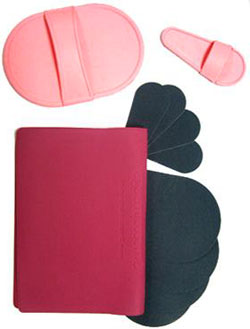 My sister and I saw these at a kiosk at the Grove in Los Angeles. They are also sold on infomercials so if you watch late night TV you've probably seen it. We tried it while we're there and it really did work, took the hair right off and made the skin super smooth. The black pads are "flex crystals", rubber pads with microscopic crystals that you can't see.
You rub the pad in a circular motion on the area you want hair removed. You do this dry, no lotion or anything else. It leaves behind an ashy white residue, I'm assuming from all the skin you just scrubbed off. It's like a very very fine sandpaper and you are essentially sanding the hair off. It supposedly keeps the hair off for 2 weeks. For the legs, it works great. But we got experimental and my sister tried her underarm and I tried my bikini area. Ouch. Not good for sensitive skin at all!! My sister's underarms is all red, even after a day, and it looks like it is badly irritated. I probably have thicker skin because my bikini area is ok now although it did sting and was uncomfortable right after the "sanding". The pain was tolerable, but then again I wax down there so I am probably desensitized. I even did this on my husband's hands. He has knuckle hair which bugs me and they came right off, with no pain.
Now the question is, will there be in-grown hair?? Yikes. That would be bad. I will report back if something terrible happens to the treated areas. The bottom line, if you have some time on your hands and don't mind putting in some elbow grease (although instructions say to not rub too hard), this does work for the legs. If you have tough skin all around, you can give it a try although I am very very weary about the underarms. They are $30 for a big pad and a smaller pad for the face and we got a "special deal" with a set of replacement crystals pads for free. The website for this company does not even work, which concerns me as well, but it is www.smoooothlegs.com. I have no idea what is up there since I can't seem to view it.