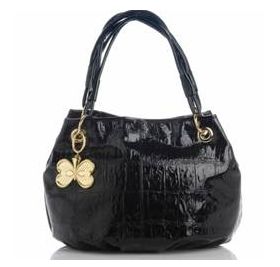 Okay, that proves it. Heidi Klum can make anything look fabulous, even a faux croco embossed bag with a giant butterfly on it. It's not that bad but just looks so… shiny. Thank god that butterfly key ring is removable– it's a decent bag to run around with if you can get over it is PVC (vegetarians will love it)– and it is very baby friendly (don't be a moron like me and keep baby bottles in your birkin, that did not turn out well for my Rouge H).
This is a super low price point so please don't bitch at me– skip on to the 'latest snob' bags if you want luxury. I've been asked repeatedly to offer really inexpensive frugal snob bags and this is as frugal as I can get. Unless you want those bags at Target for $39.99 which I've tried to write about but just can't bring myself to (yet). This one was tough, too– I'm just featuring it to show that when a gorgeous supermodel is asked to carry something, it will look fabulous. It comes in 5 colors but when dealing with faux anything– stick with black or a dark color (there is a green that is interesting).
Design Guru for Curations Croco-Embossed Patent Tote here
$139.99
Okay snobs, unleash it on me. Snob or Slob?