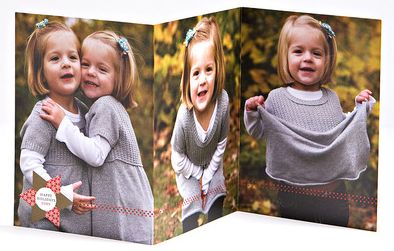 There hasn't been any shifts in trends since everyone started sending out photo holiday cards. Except now! The new thing now are accordion cards that showcases multiple images of your tots. For a lot of your family and friends, the holiday card is the only time they get actual physical photos of your tots. For them, this is something they hold on to and display all year long so why relegate their enjoyment to just one picture? With tots, you really need to show them in various states of play and poses to capture their full personalities. I have found the best options on the web for folding and accordion style holiday cards (in order of the cards shown above):
Kodak Full Bleed Accordion Fold has 5 3.5 x 5″ folded panels. Printed on both side and can accommodate up to 10 photos. Price vary with quantity but start at $3.49 each and is $2.49 for 101+ cards.
Chubbybum, The Square Accordion Fold Card folds up in a 5 1/4″ square and when opened it shows 3 pictures with an option for printing on the back (for 6 photos). It is printed on heavy 130 lb. card stock with a luscious satin finish. These cards require $0.17 additional postage. $4.15 each with a minimum of 30, prices go down with quantity, for 210+ they are $2.95.
Tiny Prints, The Crafter's Charm has 3 panels for a total of 5 photos and one page for signature and personalized message. The front photos bleed into each other so it is perfect for a series of studio shots (even your own personal home studio!). The patchwork design works its way the around the entire card. 10 Cards $4.39 each, 100 Cards $2.89 each.