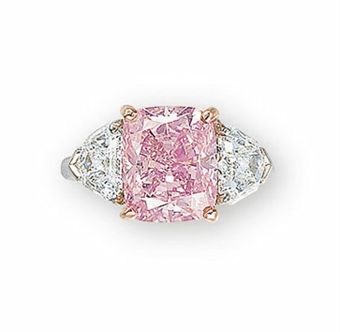 Christie's will is holding their "Magnificent Jewels" auction on December 1, 2009. The total value of this lot is estimated at over $33 million and includes 2 vivid colored diamonds that would seriously make me consider doing very bad things for. Especially the 5.00 carats natural vivid pink diamond ring by Graff. The pink diamond is cushion shaped and is flawless (VS1 clarity). This type of naturally colored pink diamonds (type lla) are extremely rare and known for its uniform color. It is surrounded by shield-shape diamonds, mounted in platinum and 18K rose gold. Staring bid is $5 million and is estimated to go for upwards of $7 million.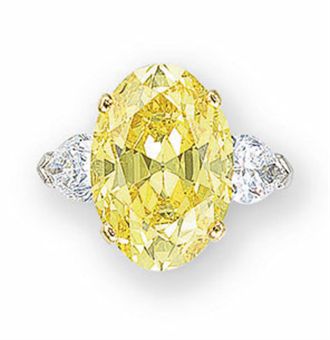 Another indeedly magnificent colored diamond in the lot is the vivid yellow, also by Graff. It is a 9.03 carats, oval shaped, fancy vivid yellow diamond with 2 pear shaped diamonds on either side, mounted in platinum and yellow gold. The clarity of this diamond is VVS1 and is type la, which is more common. Thus, the lower starting bid of $933,395 – $1,166,744, even though it is so much bigger!
Bidding begins at Christie's on December 1, 2009 in Hong Kong. You can bid online as well as track the live bidding on their website.