Diva Snob
Bobbi Brown Exclusive Black Plum Beauty Trunk ($1000) is the ultimate for the Diva in your life. It has everything but the kitchen sink in it! Gorgeous plummy shades of eye shadows, liners, blush, lipstick and glosses, shimmer brick and so much more. It would take a week just to play and try out everything!
This is just such a glamour puss set– the Touche Eclat is a perennial favorite and you can't go wrong with a sparkling gloss and smoky black eyeliner at night. I love the cosmetic bag, too. So chic! Yves Saint Laurent Holiday Collection 2009
$60
Of course you can not mention Diva snob without adding a little bit of La Mer to the mix. La Mer The Connoisseur Skincare Collection $395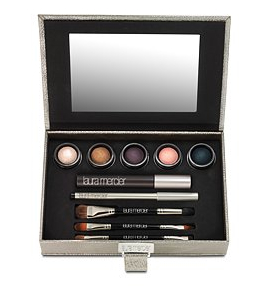 This set will allow your Diva friend to sparkle as brightly as the gems she wears. Laura Mercier does jewel tones so well, the colors are never to sheer nor too opaque and I love the nice creamy quality to the powder shadows. Laura Mercier Gemstone Eye Collection$125
Who else but a Diva would take the time to airbrush her make up on each day? Of course she is not doing it herself, she has people who do things like that for her. Platinum Airbrush System
$365
This is for the ultimate Diva snob, one who slathers a thousand dollar jar of face cream on her body (Kimora Lee actually does this, not kidding!)
Legendary Luxury Cream/16.5 oz.
$1390