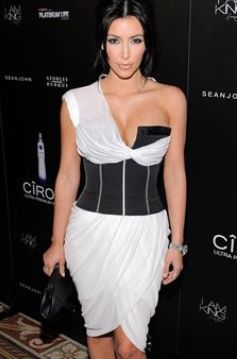 I had no idea Kim Kardashian is breastfeeding, or at least that's what it looks like from my side of the screen. Now where was this dress when I was nursing my own son (for 13 months!)!?!? I mean look at that breast flap, so convenient, just pull it down to let the bambino snack! And yes, I realize Alex did not design the dress with this function in mind but if you are nursing, give it a try!
I'm sure it's depressing when her siblings are getting more attention than her no matter how much skin she flashes but that should clue her in on what not to do. I find their entire family to be creepy– I have watched a couple of episodes of their reality show and hello– her stepdad (a pulled too tight Bruce Jenner) came to watch her strip for Playboy!?!? I guess he would have seen it in the magazine anyway but the fact that he was there in person was a bit too disturbing for me.
Alexander Wang dress is at Net-a-porter.com for $795.