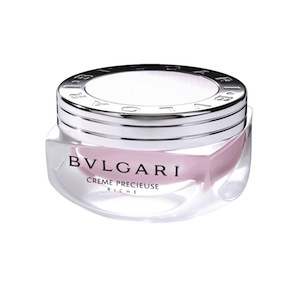 What's more precious than Bulgari jewels for Christmas? Bulgari skin care of course! We are obsessed with the Bulgari Creme Precieuse line and are so excited Bulgari agreed to giveaway $1,000 worth of its luxury skin care products! To win: Please sign up here to win!
The list will be shared with Bulgari. If you've already signed up, you'll need to do so again (but you won't get the emails twice!) Contest will end on December 31st at Midnight. Winner will be picked via random computer drawing. US residents only please. A huge thank you to BULGARI for this amazing giveaway!

BVLGARI GEM ESSENCE, an exclusive, formula that contains four extracts of fine and precious stones chosen for their synergetic and beneficial effects on the skin: sapphire, malachite, tourmaline, and citrine.
The key ingredient of Bulgari cosmetic treatments and the result of extensive mineralogical research, BVLGARI GEM ESSENCE is a combination of gems in liquid and powdered form:
– Liquid formula, rich in oligoelements that can be used by the skin.
– Micronised powder formula that is superfine and imperceptible to the touch.
Its crystalline structure makes it possible to transmit the energizing and protective properties of gems to the skin.