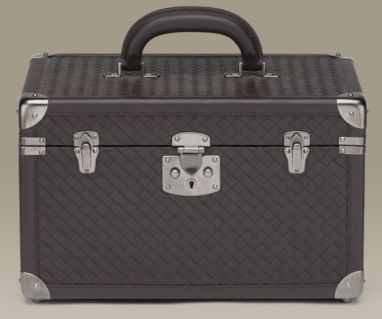 Are you done with holiday shopping? If you are procrastinating it's probably for those on your list who are notoriously difficult to shop for. That's why I have chosen a theme this year, catered to the jet-setting set. Travel gifts are thoughtful, fun and pragmatic. There are extravagant options but most are absolutely affordable but still fabulous!
The highlight is this Bottega Veneta Ebano Intrecciato Beauty Case for
$4200, for the girl who cannot decide if she is a bigger Bag Snob or Beauty Snob. I am imagining myself sitting at the hotel vanity, happily and methodically putting on my makeup getting ready for whatever faraway city that awaits me.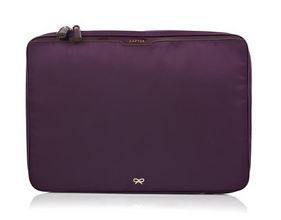 You don't need to fly anywhere to enjoy this Anya Hindmarch Taffeta Laptop Case
. I take my laptop everywhere and I would love to trade in my neoprene cover for this in gorgeous plum taffeta (this is a hint if anyone is listening). For $220 at Net-a-Porter.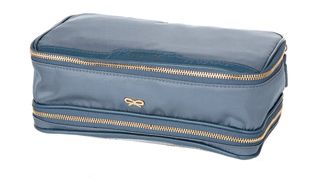 Anya Hindmarch gets two mentions because she is a known travel connoisseur and that coupled with her talent for making our lives easier with organization makes her the top expert for my travel theme. The In-Flight Washbag in blue nylon is a must for long haul flights where your skin will dry out and age right before your eyes. Load it up with heavy creams and mists as well as all the niceties that make the flight easier to endure. For $200 at Anya Hindmarch.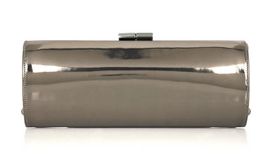 I am
a very light packer, I do not bring multiple bags with me, ever. If I need a clutch, I bring just one. A really good one, of course, like this Jimmy Choo Tube Metallic Leather Clutch.
It's your perfect one and only because it goes with everything and is small enough to wedge into the edge of your suitcase. At Net-a-Porter for $1150.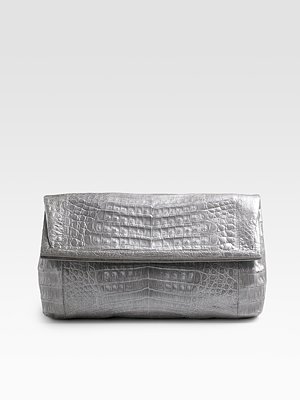 Another clutch option for travel is this Nancy Gonzalez Large Crocodile Clutch. The fold-over style allows you to go from day to evening and is large enough for the much needed camera. And better yet, it is on sale, was $2800 and is now $1960 at Saks Fifth Avenue.
Everyone needs a passport holder but these Valextra Passport Holders show off your multi-national status. I wish they had all the countries but these are a good start, choose from US, UK or Africa. For $295 at Barneys New York.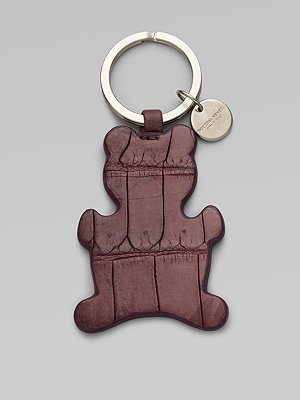 Driving is a form of traveling right? I just had to throw this in here because it is so ridiculously cute and it really does make a lovely gift, you wouldn't really buy this for yourself (at least I wouldn't) but I would jump with joy if I got this. The Bottega Veneta Teddy Bear Embossed Leather & Sterling Silver Key Ring is $160 at Bottega Veneta.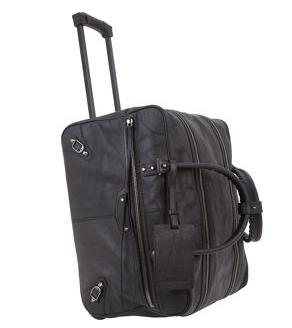 Of course, you can't travel without a trolley. I have seen some pretty spectacular luggage but they are not practical because they cannot actually handle the abuse of actual travel. And for those who have a Balenciaga (who doesn't?), you know the leather wears beautifully. Which is perfect for luggage! I don't mean you should check this in but with normal handling, you will look put together like the well heeled and seasoned traveler that you are. Balenciaga Arena Trolley at Barneys New York for $2695.